Memorable Events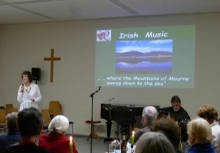 Charity work & an Irish music evening with Sheila and Horst
The Christmas bazaar, great food and the enthusiastic sing-along – what a combination!
Learn More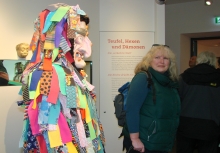 Fasching trip to the Fastnachtmuseum in Kitzingen
The best time to visit the German Carnival Museum in Kitzingen is during the Fasching season......
Learn More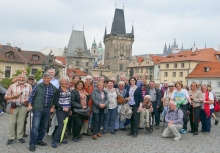 An Excursion to Prague
In 2016 Prague and Nuremberg marked the birth of Emperor Charles IV. Why not join in, we thought!
Learn More
Check at the bottom of the page for some useful links and Members feedback!
Links & Feedback
Calendar of Events
(Click the links for interesting details)
All Events have been suspended until the end of April.
July to December
6:00 p.m. Annual Christmas Potluck. For members and their guests only.
Member Feedback
Dear Franconians, I have enjoyed tremendously eight years of life in Erlangen and as an active member of the Franconian Society. What a wonderful way for an English speaker to become integrated into local life! I will take back to Australia many happy memories and some lifelong friendships. Thank you for the happy company and the wonderful enrichment of life you have given me!

Celia
4th November: Professor Gossel's talk on Brexit was so well done – clearly structured, highly informative, balanced. I hope the committee invites him back to talk about Donald Trump!

Frank
3rd February: Very pleased that we had a talk on the War Trials in Nuremberg, and what made the evening so interesting was that Karen gave us the lowdown on what it's often like to be an interpreter today. A good mix of history and present-day practice.

Valerie
28th March: Really enjoyed the March visit to the Fraunhofer Institute in Tennenlohe. Anyone can visit a museum, but this was a place where an ordinary mortal has no access at all. Fascinating, great stuff.

Ingeborg
Selling coffee and cake at our stand at the Erlanger Frühling was a fun way to raise money for charities and I enjoyed helping out, knowing that the charities receive 100% of the money raised.

Renate M.
Consider Joining
Send us your email and we'll tell you more!